Book Club to Read Peter Singer's "A Darwinian Left"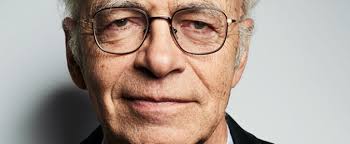 We will host both an in person (only on São Miguel at present) and online book club, a Facebook group where we will utilize video conferencing, to read Peter Singer's book "A Darwinian Left". Join the Facebook group here.
From the Facebook post I wrote to tell people about this event:
Am interested to read this book by Peter Singer "A Darwinian Left". I think it might be a good place to begin this effort I'm interested in - putting some thought into improving and expanding the online community of learners interested in applying evolutionary theory to understanding the human mind.
Let's start a book club and read this book and discuss it both through textual discussion in the group but also through video conferencing together. For those who haven't read it, read about my thinking about building a community and improving and expanding the conversation about psychology here: https://www.humanmind.io/all/about-us/
Many of you will already know that Peter Singer is regarded by many to be the most influential philosopher alive. He had a terrific influence on the Animal Rights movement by writing the book "Animal Liberation" in the 1970s. I don't think anyone thinks he is an expert on evolutionary theory but this book will be an interesting read I think. And make for an interesting discussion.
I hope we can organise a number of video conference calls around this book. Probably calls at times suitable for different people and maybe calls suitable for people with different levels of depth of understanding about philosophy and/or evolutionary psychology. If we get some interesting participants in the calls perhaps we can record the calls and post the video. I'm going to announce this discussion in evolutionary psychology groups and the main effective altruism group on Facebook. Any ideas for further places to share or sharing yourself on your own timeline or in various groups would be appreciated!